A few weeks ago, I mentioned that I linked our blog up with the
2012 New Year Blogging Party gift exchange & link up, hosted by
Casey
,
Danielle
, &
Alycia
;

and soon after found out I was partnered with Britney of The Musings of a Twenty-Something Wife.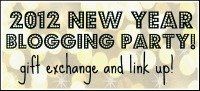 I've got to admit, I was a little... apprehensive at first. I mean, how do you get to know a complete stranger over the internet? What if this stranger doesn't like me? What if she doesn't participate at all? But then I got that first email from Britney. And thought, "Ok, I can do this... another 20-something wife. We have that in common. I'll just be myself, it's all there is to do." And then I clicked on her blog and saw she had sweet pup named Winston- well, if you love a pup, you're definitely okay in my book. :) Since then, Britney and I have been emailing back and forth, and I think it's safe to say that we'd get along pretty well in real life, too! She's sweet, thoughtful, hilarious, loyal, and gorgeous inside and out... and yes, you can learn all of this about one person through emails and blog reading. Who knew??
Yesterday, on a no-good Monday after an exhausting weekend full of work (and no relaxing), I got a visit from the postman who says, "This one's for you." Yay, my care package from Britney was here!! I loved it already, just from looking at the box. The sweet collection of stamps on the top made me smile. :)
And then when I opened the box, things got better and better!
(By the way- I apologize in advance for the terrible phone-quality photos you are about to view. You see, Hubby and I installed new floors in our sunroom on Sunday. It hurt to lift a pen at work yesterday- a PEN. S0 yeah, light-weight camera phone it is.)
She sent an adorable silicone heart-shaped muffin pan with blueberry (yummm!) muffin mix, a list-taking notebook in a pretty pattern (totally fueling my list-taking obsession), Essie nail polish in the ever-gorgeous shade of "In Stitches" (how perfect, so thoughtful Britney!!), a sweet card AND a 100-year-old postcard! Let's take a closer look:
Postmarked July 3, 1913 to Miss Bess Pogson. Absolutely amazing. And I love what it says on the front: "You're a nice kid and I like you." Precious! Britney's husband owns the world's largest postcard shop. I can't even imagine the treasures he's come across.
And what did I do immediately following dinner? Of course I made my sweet husband some love muffins. He totally approved of the blueberry, Britney!
I guarantee her sweet smile, hilarity, and general awesomeness will bring a smile to your face. Thank you again, Britney!
Update- check out Britney's blog to see a little something I stitch up for her. Sneak peek:
I'm so excited to check out the link party- let's make some more friends today!